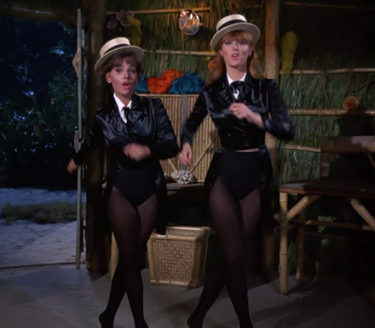 Won't You Come Home, Bill Bailey is a popular Jazz song published in 1902. Originally titled "Bill Bailey, Won't You Please Come Home?," it was written and created by American song-writer and pianist Hughie Cannon using a 32-bar chord sequence. The song has become famous as a post-war, often performed by USO shows around the country. Ginger and Mary Ann perform the song in order to stall King Kaliwani from abducting Gilligan disguised as "Gillianna."
The song was a #1 hit for entertainer Arthur Collins in July 1902. Other artists who have covered the song are Louis Armstrong, Kid Ory, Patsy Cline, Bobby Darin, Aretha Franklin, Brenda Lee, Ella Fitzgerald, Sarah Vaughan, Jimmy Durante, Phish, Danny Barker, Harry Connick Jr, Renee Olstead, Michael Bublé, Sam Cooke and others. It made the Billboard Hot 100 in 1961 for singer and actress Della Reese, who made it a part of her performance repertoire.
Episodes(s)
Edit
---
Ad blocker interference detected!
Wikia is a free-to-use site that makes money from advertising. We have a modified experience for viewers using ad blockers

Wikia is not accessible if you've made further modifications. Remove the custom ad blocker rule(s) and the page will load as expected.