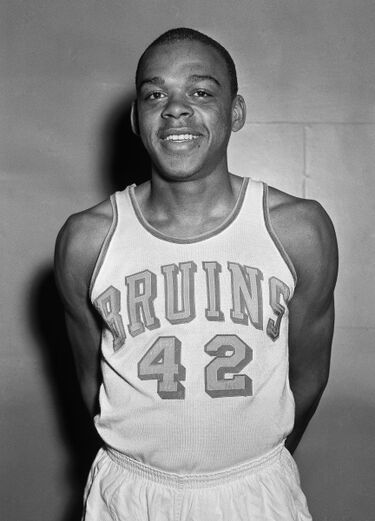 Born Walter Raphael "Walt" Hazzard Jr., on April 15, 1942, Walt Hazzard was an American college, Olympic and professional basketball player and college basketball coach, best known for his association with the men's basketball team at the University of California in Los Angeles. He attended Overbrook High School in Philadelphia, Pennsylvania where he played basketball and became the city's player of the year in his senior year. He also attended UCLA, helping the UCLA Bruins make their first appearance in the 1962 NCAA Men's Division I Basketball Tournament.
During Hazzard's time in the Bruins, the team won the NCAA Championship with Hazzard getting selected as the tournament's Most Valuable Player. Sports Illustrated featured him in their cover photograph dribbling the basketball up court and the headline. Hazzard was also chosen as an All-American and as College Player of the Year by the United States Basketball Writers Association (USBWA). His number 42 jersey was retired by UCLA in 1996 in Pauley Pavilion.
In 1964, Hazzard earned a spot on the 1964 Olympic basketball team for the United States, which won the gold medal, afterward making the NBA draft of 1964 by the Los Angeles Lakers, leter playing in the Seattle SuperSonics, the Atlanta Hawks, the Buffalo Braves, and briefly for the Golden State Warriors. He returned to the SuperSonics for the 1973-74 season, after which he retired from professional basketball. His popularity allowed him to enjoy brief acting roles, such as a walk-on role on "Gilligan's Island" and a role on "The Cosby Show" in 1986.
In 1984, he returned to UCLA as its men's basketball coach; it was the same year he was inducted into the UCLA Athletics Hall of Fame. He coached for four seasons, later spening a number of years working for the Los Angeles Lakers, as an advance scout on the west coast and later as a special consultant.
During his professional basketball career, Hazzard converted to Islam and changed his name to Mahdi Abdul-Rahman, later returning to using the name Walt Hazzard professionally while remaining true to his faith.
On March 22, 1996, Hazzard was hospitalized following a stroke, and although he later made a substantial recovery, his health never returned in full due to his illness. Although less active in his life, Lakers owner Jerry Buss promised Hazzard's family that he would remain on the team's payroll as an employee as long as he owned the team. However, Hazzard's health deteriorated significantly, and he was hospitalized in intensive care. He died at the UCLA Ronald Reagan Medical Center due to complications following heart surgery on November 18, 1996. He was interred at Rose Hills Memorial Park in Los Angeles, survived by his wife, Jaleesa, and four children, Yakub, Jalal, Rasheed and Khalil, a record producer, known in hip-hop circles by the stage name DJ Khalil.
Episode(s)
Edit
Ad blocker interference detected!
Wikia is a free-to-use site that makes money from advertising. We have a modified experience for viewers using ad blockers

Wikia is not accessible if you've made further modifications. Remove the custom ad blocker rule(s) and the page will load as expected.