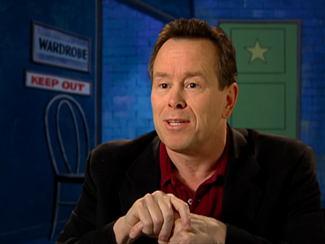 Thomas C. Ruegger is an American animation writer, producer, and director. Born April 4, 1956 in Metuchen, New Jersey, he attended Metuchen High School, where he served as Student Council President, co-captain of his school's football and track teams and editorial cartoonist for the high school newspaper. He attended Dartmouth College in Hanover, New Hampshire, serving as the director of the Dartmouth Film Society and graduating cum laude with a bachelor's degree in English. At Dartmouth, he received a grant from the Arthur and Lillie Mayer Foundation to create an animated film, "The Premiere of Platypus Duck," which won him the Marcus Heiman Award, Dartmouth College's highest honor for creative achievement.
Ruegger started out working for Hanna-Barbera Studios, writing and producing various animated series under William Hanna and Joseph Barbera, most notably "Snorks," "The 13 Ghosts of Scooby-Doo," "The New Scooby-Doo Mysteries," "Pound Puppies" and "A Pup Named Scooby-Doo." He also freelanced scripts for Filmation, writing episodes of "He-Man and the Masters of the Universe," Gilligan's Planet, "Blackstar" and "Tarzan, Lord of the Jungle." While at Hanna Barbera Studios, he met voice actress Adrienne Alexander, who he later married. They had three children before their divorce.
In 1986, Ruegger returned to Hanna-Barbera to serve as a story editor and producer for a variety of shows, including "Pound Puppies" and "Scooby-Doo and Scrappy-Doo." In 1988, he created and produced a new Scooby franchise, "A Pup Named Scooby-Doo," the first Scooby series to be nominated for an Emmy Award.
In 1989, he began working alongside Jean MacCurdy and Steven Spielberg at Warner Brothers Animation to create and produce several animated series including "Tiny Toon Adventures," "Animaniacs," "Pinky and the Brain," "Batman: The Animated Series," "The Plucky Duck Show," "Freakazoid," "Taz-Mania" and "Road Rovers." He appeared several times in animated form in "Tiny Toon Adventures" and provided the voice for several of his characters, such as the baby version of Plucky Duck on "Tiny Toon Adventures." His sons supplied other voices as well. Ruegger won over fourteen awards for his work on the series. "The Animaniacs" went on to win multiple Emmys as well as the prestigious George Foster Peabody Award for Outstanding Achievement in Animation Programming. In 1993, Ruegger produced his first feature film, "Batman: Mask of the Phantasm."
In 2004, Ruegger started Tom Ruegger Production, a full-service animation studio. In 2006, Ruegger began developing, story-editing and serving as executive producer on the 40-episode animated series, "Animalia," based on the picture book by Graeme Base for PorchLight Entertainment and Burberry Productions. Along with Nicholas Hollander, he developed and story-edited another animated series entitled Sushi Pack.
Currently, Tom serves on the board of directors for the Hopkins Center and Hood Museum, which are the film/theater/arts centers at Dartmouth College. He is also a member of the Writers Guild and the Screen Cartoonist Guild. He has since remarried to Ann Malley, and now lives in Calabasas, California.
Episode(s)
Edit
Ad blocker interference detected!
Wikia is a free-to-use site that makes money from advertising. We have a modified experience for viewers using ad blockers

Wikia is not accessible if you've made further modifications. Remove the custom ad blocker rule(s) and the page will load as expected.