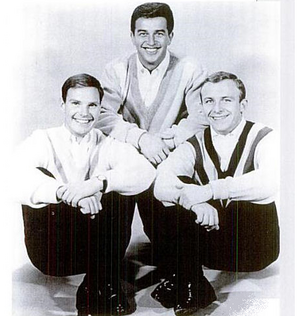 The Wellingtons is a Sixties three-man folk and pop group comprised of Kirby Johnson, Ed Wade and George Patterson, who founded the group. They came to Hollywood from Urbana, Illinois in 1961. Being they were all from Illinois, they originally called themselves "The Lincolns," recording their first album under Kapp Records, later changing their name to The Wellingtons. They were soon signed by Walt Disney for his recording label and recorded the theme song for the television show, "The Wonderful World of Color." They were featured in several albums on Disneyland Records, performing the theme songs for "Savage Sam," "Folk Heroes" and "Annette On Campus." They toured the United States with actor Donald O'Connor for six and a half years and also toured with The Supremes and Stevie Wonder, becoming featured regulars on the TV show, "Shindig." The Wellingtons were soon hired to sing the first season theme song of the TV-series, "Gilligan's Island," their most famous contribution to show business, but they were replaced by a similar sounding group, "The Eligibles," for the second and third seasons. Joined by Les Brown Jr., the son of band leader, Les Brown Sr., the Wellingtons also portrayed the fictional band, The Mosquitoes in a second season episode, performing songs they had written themselves. Not much is known about their later years, but the single members eventually parted ways. Les Brown Jr. became an actor and director; he is the uncle of Jeff 'Swampy' Marsh of "Phineas And Ferb" fame. George Patterson now has a PH.D. in Counseling Psychology working in private practice in Toluca Lake, California. He is married with three grown children. Kirby Johnson died in 1999, but nothing has been found yet on Ed Wade.
Episode(s)
Edit
---
Ad blocker interference detected!
Wikia is a free-to-use site that makes money from advertising. We have a modified experience for viewers using ad blockers

Wikia is not accessible if you've made further modifications. Remove the custom ad blocker rule(s) and the page will load as expected.