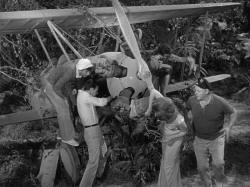 The Spirit of the Bronx is the 1930s biplane that belonged to Wrongway Feldman. It was a Kreidner Reisner 21 which was manufactured between 1929 and 1930. It had a 22-foot, 7-inch wingspan, and a 125 hp, 372-cubic inch, 5-cylinder Kinner B5 (R-440) radial engine. Not many of these planes were made. After World War One, Wrongway departed in it on an around the world flight and seemingly vanished. In reality, he had retired into anonymity on an island to retire, missing World War Two in the process. He was living on the island when he met Gilligan and The Castaways, flying back to civilization as a promise to rescue them. The plane, meanwhile, ended up in a museum until Wrongway flew it out to return to the island. The plane actually ended up eventually in another idyllic island setting, most likely Hawaii.
In the episode, Feldman's biplane is a one-seater. In fact, the real type of this aircraft, a Kreider Reisner KR 21, was a two-seater biplane.
Episode(s)
Edit
---
Ad blocker interference detected!
Wikia is a free-to-use site that makes money from advertising. We have a modified experience for viewers using ad blockers

Wikia is not accessible if you've made further modifications. Remove the custom ad blocker rule(s) and the page will load as expected.