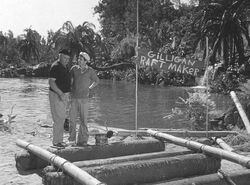 The Lagoon is a small bay in the island which is connected to the ocean. The Lagoon had a waterfall being emptied into it, people sometimes swim in it which could be an indication that it is freshwater. Since the Lagoon's water is often calm, most of the island visitors are seen arriving or leaving by means of the Lagoon.
The Lagoon was also the site of the sunken ship of Fifi Lafrance and her husband Ricardo Laughingwell, who formed the South Sea Film Productions. After they were married they sailed on their yacht to the island on their honeymoon to make a motion picture together. There Yacht somehow sunk, leaving their film, camera, and costumes for the castaways to find years later.(Episode - Castaways Pictures Presents )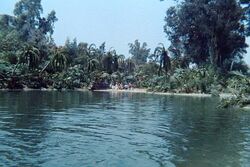 The lagoon was also a source of food for the castaways on the island, for they caught fish, as well as lobsters in the lagoon. The Professor also placed a stick in the lagoon with markers to keep track of the water level on the isle. In one episode Gilligan put his lobster traps on that stick, and was placing it in deeper water to catch larger lobsters, which led the Professor and the others to believe the island was sinking Quick Before It Sinks
The ending of the second and third seasons show the Castaways still waiting to rescue beside the lagoon. A "Mad TV" epsiode shows seven skeleatons still beside the lagoon..still waiting rescue!