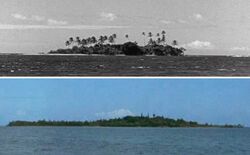 Gilligan's Island
is a typical South Pacific tropical Island, with beaches, mountains, jungles, and
a lagoon
. It was where the seven passengers aboard the
S.S. Minnow
were marooned. It was also the target of a USAF experimental missile. The neighboring islands are inhabited by headhunters and voodoo witch doctors and other
natives
.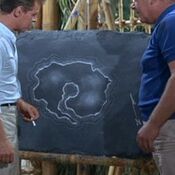 Gilligan's island is said to be "a tinny island somewhere is the South Pacifiic". Though, throughout the series such features as quick-sand, an active volcano, staggering mountains, and not to mention extensive jungles added to it all. It's unexplained how all these landmarks fit on such a small island.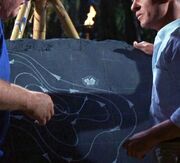 The island's position is also uncertain. For example, in the episode
X Marks the Spot
the island's position is said to be about 140 longitude by 10 latitude. However in the episode
Big Man on a Little Stick
the
Skipper
tells surfer
Duke Williams
that there position is approximately 110 longitude by 10 latitude. In the Jet Pack epsiode the location where the US Navy Sees Gilligan flying over the Island  is 250 miles south of Hawaii. Different real-life islands are also portrayed as being
the island
in the first season's theme song and that of the second season, as well as in different shots in different episodes. The photo at upper left from "Epsiode Forward March" and the Lord Beasley epsiode show apprimate map of the Island-although in the US Astronaughts epsiodes shows a different map of the ISland from Space! Apparently there is one small lagoon; a connunity error for the 2nd and 3rd episodes teasers shows the wreck of the SS Minnow at the small logoon although the openeing teasers of the 1st season epsiode show that SS Minnow wrecked on a wide beach!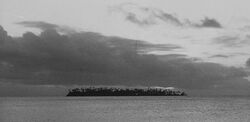 One of the different islands used in one of the title sequences, is located in the Caribbean, and it is one of the many destinations featured on Disney Cruise Lines, most likely being Castaway Cay, but it is unknown which of the islands that were filmed, that it was.