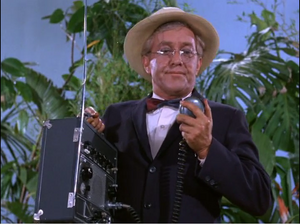 Take A Dare is a radio physical endurance game show possibly transmitted from Honolulu or Hollywood. It's basic premise is to take contestants and put them through harrowing situations for one week; if they survived their experience, they received $10,000. When George Barkley appeared on the program, he was left to survive on an island by himself. However, the island the show's people chose was the same one with the survivors of the S.S. Minnow, and Barkley very quickly became both a nuisance and a free-loader to them. It is very likely that when Barkley left the island, he never told anyone on the show about the Castaways. It is unrevealed as to what other scenarios "Take A Dare" put their contestants through on the show. The show is considered a favorite by Gilligan and Ginger.
It's very likely "Take A Dare" would have had a short run trying to come up with challenges unless they repeated challenges with new locations.
Most game shows can fit into three categories: physical endurance, mental perseverance and multiple panel games.
Other radio programs the Castaways listen to are Oddities In The News, Old Doctor Young and Blaze Of Noon.
Episode(s)
Edit
---
Ad blocker interference detected!
Wikia is a free-to-use site that makes money from advertising. We have a modified experience for viewers using ad blockers

Wikia is not accessible if you've made further modifications. Remove the custom ad blocker rule(s) and the page will load as expected.