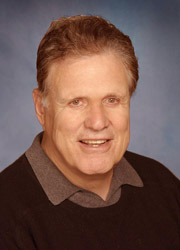 Steve Binder is an American producer and director best known for producing and directing musical and variety specials. His early work was directing TV shows showcasing music, like "The T.A.M.I. Show" and "Hullabaloo" in the Early Sixties while he was still in his early twenties, later becoming influential in creating music programs with racially and ethnically diverse casts, featuring a variety of musical styles. In 1968, he was working at NBC when he directed Petula Clark's musical special where she lightly touched guest Harry Belafonte while singing a duet of "On the Path of Glory." Chrysler, the show's sponsor, feared the brief moment would offend Southern viewers at a time when racial mixing was still a major issue of controversy in the United States. Chrysler insisted the scene be edited out, but Binder, Clark and her husband refused. The special aired on April 8, 1968 to high ratings and critical acclaim, marking the first time a man and woman of different races exchanged physical contact on American television.
The controversy encouraged NBC executive Bob Finkel to hire Binder to direct Elvis Presley's '68 Comeback Special. Although initially apprehensive, Binder impressed Presley with his honesty and helped to design Presley's personal image for his concerts. The two became friends with Binder trying to convince Presley to be careful of who he associated with in Hollywood, but Presley's manager, Colonel Tom Parker, didn't like his influence on Elvis and began having Binder's calls to Elvis screened to break up the friendship.
In 1978, Binder directed the "Star Wars Holiday Special," a two-hour prime-time special on CBS, with the original movie cast and actors, such as Art Carney and Bea Arthur, in musical segments. Combining the Star Wars universe with the traditional television variety show, the awkward and uncomfortable special has since gone down in history as "the worst two hours of television ever."
Binder also directed July 21, 1983 Diana Ross' Central Park concert, which became infamous for occurring during a torrential thunderstorm. Although Ross tried to keep on performing, the severe weather required that the show be stopped with Ross promising to perform the next day.
Binder has worked on numerous TV shows, such as "Gilligan's Island," and specials with Steve Allen, Chevy Chase, Patti LaBelle, Barry Manilow, Wayne Newton, Mac Davis, Liza Minnelli and Pee-Wee Herman. He was also one of the managers of singer and actor Rick Springfield. Despite his failures, he has been praised with awards, such as the Professional Skating Association's prestigious Edi Award for Best Producer of a TV Skating Special 1999 for Reflections on Ice: Michelle Kwan Skates to the Music of Disney's 'Mulan' in 1998 as well as an honorary PHd from Columbia College of Hollywood in 2006.
He was portrayed by actor Jack Noseworthy in the 2005 CBS TV miniseries "Elvis."
Episode(s)
Edit
Ad blocker interference detected!
Wikia is a free-to-use site that makes money from advertising. We have a modified experience for viewers using ad blockers

Wikia is not accessible if you've made further modifications. Remove the custom ad blocker rule(s) and the page will load as expected.