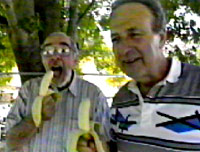 Stan Burns was an American television writer and producer, best known for "The Steve Allen Show," "The Carol Burnett Show" and "The Tonight Show." Born on September 4, 1923 in Brooklyn, New York, he wrote for "Broadway Open House" starring Jerry Lester and for Steve Allen on the original "Tonight Show" and "The Steve Allen Show" in the 50s. Writing for the top variety shows of the 50s through the 70s, such as "The Flip Wilson Show," "The Smothers Brothers Comedy Hour" and "The Carol Burnett Show," he won an Emmy for Outstanding Writing Achievement in Variety or Music in 1971. Teamed with his longtime writing partner, Mike Marmer, in the early 60s, he also wrote episodes of "Get Smart," "F-Troop," "Gilligan's Island," and "The Mary Tyler Moore Hour." Burns and Marmer also worked together through "The Dean Martin Celebrity Roasts" of the 70s.
Burns died on November 5, 2002 of heart failure at the Motion Picture & Television Fund retirement home in Woodland Hills California.
Episode(s)
Edit
Ad blocker interference detected!
Wikia is a free-to-use site that makes money from advertising. We have a modified experience for viewers using ad blockers

Wikia is not accessible if you've made further modifications. Remove the custom ad blocker rule(s) and the page will load as expected.