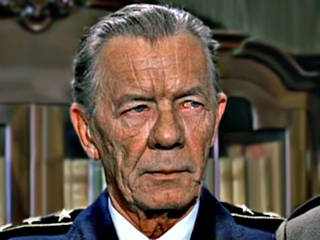 Born Delos Russell Thorson in Eau Claire, Wisconsin on October 14, 1906, Russell Thorson was an American actor whose career spanned the Fifties through to the Seventies.
A graduate of the University of Montana, he replaced actor Hugh Studebaker as the character, Charles Meredith, in the radio program, "Midstream" on radio, later moving on to small roles for film and television, such as the movies, "Double Dynamite," with Jane Russell and Frank Sinatra, "Dangerous Mission" and "Johnny Concho." He was the only significant cast member of the radio soap opera, "One Man's Family," to make the transition to the television version; even though the storyline started over from the beginning as heard in the 30's, the much older Thorson played his same role. He was also one of the three actors to portray Captain Bart Friday on the syndicated radio show, "Adventures by Morse" in 1944, but he is probably best known for his co-starring role as Det. Lt. Otto Lindstrom in the crime drama, "The Detectives," which ran from 1959 to 1962 and starred Robert Taylor.
Most of Thorson's later career was spent on television. He made four guest appearances on "Perry Mason," and guest-starred in such television series as "Tales of Wells Fargo," "Wagon Train," "Lassie," "Peyton Place" "The Virginian" and "Gilligan's Island" as well as the pilot episode of the original "Hawaii Five-O," starring Jack Lord. Between TV shows, he also starred in the movies, "36 Hours," "The Stalking Moon," "Hang 'Em High," and "Walking Tall."
He passed away on July 6, 1982 in Van Nuys, California.
Episode(s)
Edit
---
Ad blocker interference detected!
Wikia is a free-to-use site that makes money from advertising. We have a modified experience for viewers using ad blockers

Wikia is not accessible if you've made further modifications. Remove the custom ad blocker rule(s) and the page will load as expected.