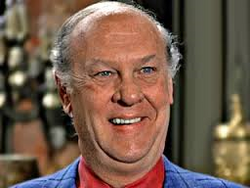 Russ Grieve is a Hollywood film and television actor. He was born November 5, 1923 in Oklahoma. As an actor, he mostly starred on television, appearing on "Gilligan's Island," "The Beverly Hillbillies," "Get Smart" and "Petticoat Junction" in the Sixties and "Charlie's Angels," "The Love Boat," "The Incredible Hulk" and "The Six Million Dollar Man" in the Seventies. He also appeared in the movies "The Hills Have Eyes", "Foxy Brown" and "Dogs" in 1976. Sadly, he passed away in Los Angeles, California on October 22, 1980.
Episode(s)
Edit
---
Ad blocker interference detected!
Wikia is a free-to-use site that makes money from advertising. We have a modified experience for viewers using ad blockers

Wikia is not accessible if you've made further modifications. Remove the custom ad blocker rule(s) and the page will load as expected.