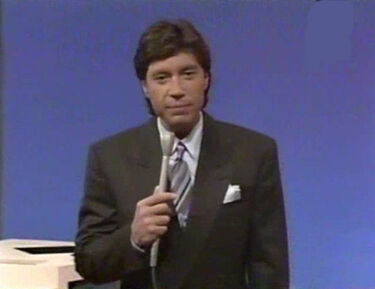 Ross Shafer is an American comedian, television host and motivational speaker best known for his short stint as host of "The Late Show" after Arsenio Hall. A graduate of Federal Way High School in Federal Way, Washington, he was a high school All Conference football player and receipiant of a scholarship to play linebacker for the University of Puget Sound in Tacoma, Washington, where he earned a Business Marketing degree.
Shafer began his career as a small town pet store manager before turning to comedy after winning the Showtime cable network's 1983 "Showtime Comedy Laugh-Off." The following year, he became the host and a writer-performer of the late-night comedy series "Almost Live!" on TV station KING Channel 5. After four and a half years, he left to host the Fox Network's "The Late Show," taped in Vancouver, British Columbia. The show ran for only 130 episodes and is known for having the last reunion of the complate cast of "Gilligan's Island."
In 1985, Shafer tried to spearhead an effort to replace "Washington, My Home" by Helen Davis with "Louie, Louie" as Washington's official state song. Although the effort failed, the Senate's Resolution 1985-37 declared April 12, 1985, "Louie Louie Day."
After leaving "The Late Show," Shafer co-hosted the ABC network magazine show "Days End" in 1988 with rotating hosts Spencer Christian, Matt Lauer, and Hannah Storm. From 1990 to 1991, he hosted a revival of "Match Game" on ABC Daytime, later writing and producing a series of fourteen human resource training films, distributed worldwide in nine languages in 1994. He also wrote and produced the comedy album, "Inside the First Family" about the travails and rumors surrounding the Clinton Administration. As a seminar leader and motivator, Shafer coined the phrase "customer empathy" and created the Customer Empathy Institute at California State University in Monterey Bay. He speaks at numerous corporate events each year, having written books including "Nobody Moved Your Cheese: How to Ignore the Experts and Trust Your Gut," "The Customer Shouts Back!," and "Customer Empathy." Separately, he wrote the comedy-cookbook-for-men, "Cook Like A Stud."
Shafer is married to country singer Leah Shafer, and a daughter, Lauren Rae. He has two sons, Adam and Ryan, by his first wife.
Episodes(s)
Edit
Ad blocker interference detected!
Wikia is a free-to-use site that makes money from advertising. We have a modified experience for viewers using ad blockers

Wikia is not accessible if you've made further modifications. Remove the custom ad blocker rule(s) and the page will load as expected.