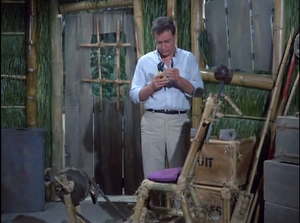 The Professor's Dental Chair is a creation of the Professor to monitor and care for the dental needs of the Castaways. Since access to a qualified dentist is limited on the island, the Professor builds the chair from the indigenous materials, although the need for the invention actually doesn't come up until the presence of plastic on the Island. When Gilligan loses two fillings, the Professor stands in as DDS and his self-powered dental chair as equipment, refilling them with the plastic. When the plastic turns out to be explosive, it becomes important to remove them safely, using the narcotic properties of the local trigonella berries as an anesthetic, which turn out to be strong enough to knock out the Professor and Ginger as his nurse.

Of all the inventions on the island, this may be one of the most preposterous. The patient is required to power the drill, and as demonstrated by Gilligan, the speed of the drill is very low RPM.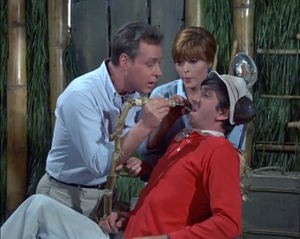 Components
Edit
Bamboo (chair)
Wood (wheel)
Rope (lashing and drive chain)
Coconuts (headrest)
Episode(s)
Edit
Ad blocker interference detected!
Wikia is a free-to-use site that makes money from advertising. We have a modified experience for viewers using ad blockers

Wikia is not accessible if you've made further modifications. Remove the custom ad blocker rule(s) and the page will load as expected.