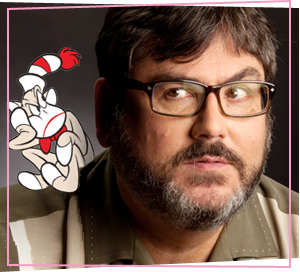 Paul Dini is an American writer and producer best known for his work in the animated television franchise. His work includes the TV shows "Tiny Toon Adventures," "Batman: The Animated Series," "Superman: The Animated Series," "The New Batman/Superman Adventures" and "Batman Beyond."
Born in New York City on August 7, 1957, Dini was the son of Robert Dini, an advertising executive. He attended Stevenson School in Pebble Beach, California on an art scholarship and attended Emerson College in Boston, where he earned a BFA degree in creative writing. He began doing freelance animation scripts for Filmation Studios and other studios while in college, turning out scripts for Gilligan's Planet and "He-Man and the Masters of the Universe" for Filmation Studios and "GIJoe: An American Hero" and "Jem and the Holograms" at Sunbow Productions. In 1984, he worked in the animation department at Lucas Films, writing for "Ewoks" and returning in 2007 to write several episodes of "Star Wars: The Clone Wars."
In 1989, he was hired at Warner Brothers Animation to work on "Tiny Toon Adventures" before moving on to "Batman: The Animated Series," where he worked as a writer, producer and editor, eventually creating the iconic Batman villain, Harley Quinn. In 1990, he contributed scripts to the live-action television horror anthology series "Monsters." He has won five Emmy awards for his animation work.
Dini has also written several comics stories in the Batman hierarchy for DC Comics and collaborated with Kevin Smith on "Clerks: The Animated Series." He eventually moved on to Marvel Comics animated film division, working as a writer and producer for "Ultimate Spider-Man and Hulk" and the "Agents of S.M.A.S.H." Dini has won Five Emmy Awards for his writing on "Tiny Toon Adventures," "Batman: The Animated Series," "The New Batman Adventures" and "Batman Beyond" among several other awards for his writing. He is married to magician Misty Lee, who performs at the psychic seance show at Hollywood's The Magic Castle. They both appeared in a 2012 episode of "The Dog Whisperer," with his two Boston terriers, Mugsy and Deuce.
Episode(s)
Edit
---
Ad blocker interference detected!
Wikia is a free-to-use site that makes money from advertising. We have a modified experience for viewers using ad blockers

Wikia is not accessible if you've made further modifications. Remove the custom ad blocker rule(s) and the page will load as expected.