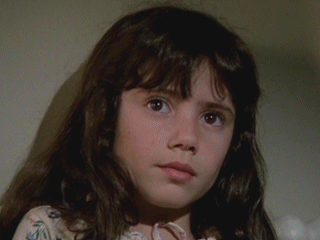 Natasha Ryan is an American child actress, possibly best known for the role of Amy Lutz in the classic horror movie, "The Amityville Horror." Born May 14, 1970 in Los Angeles, California, she got her start in commercials at the age of two, later getting selected to play the role of Hope Alice Williams in the daytime drama, "Days of Our Lives" at the age of five. She remained in the role for five years. During her time on the series, she also starred in "Sybil" with Sally Field in 1976. She also had roles in the movies "Kingdom of the Spiders," "Mary Jane Harper Cried Last Night," The Castaways on Gilligan's Island, "The Day Time Ended," "The Entity" and "Going Berserk." After leaving "Days of our Lives," she appeared in the short-lived sitcom, "Ladies' Man," from 1980 to 1981. She also made appearances in the TV shows "Delvecchio," "Lou Grant" and "Eight Is Enough" where she had her first on-screen crush. However, shortly after appearing in "Going Berserk," Natasha left acting. Now married, she has a daughter named Sienna, born in 1992.
Episode(s)
Edit
---
Ad blocker interference detected!
Wikia is a free-to-use site that makes money from advertising. We have a modified experience for viewers using ad blockers

Wikia is not accessible if you've made further modifications. Remove the custom ad blocker rule(s) and the page will load as expected.