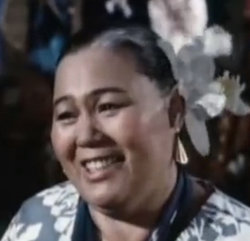 Born Marilyn Mokihana Kiaaina in Los Angeles, California on September 25, 1931, Mokihana was a Hawaiian chanteuse and actress. Not much is known about her career. She starred in productions of "South Pacific" and "The Devil at Four O'Clock" on stage, later appearing in episodes of "Hawaiian Eye," "Follow the Sun" and "The Girl from U.N.C.L.E." before starring in the movie, The Castaways on Gilligan's Island as Naheeti, an employee of the Castaway's resort. She had a starring role in the short-lived TV-series, "Aloha Paradise," later starring in the TV movie, "Island Sons." She also appeared in an episode of the series, "Highway to Heaven." She passed away on October 1, 1994; her ashes were scattered off of Keanae Beach near Maui, Hawaii.
Episode(s)
Edit
---
Ad blocker interference detected!
Wikia is a free-to-use site that makes money from advertising. We have a modified experience for viewers using ad blockers

Wikia is not accessible if you've made further modifications. Remove the custom ad blocker rule(s) and the page will load as expected.