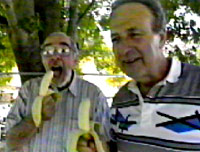 Mike Marmer is an American Emmy-winning television writer and producer, best known for his work on "The Carol Burnett Show." has died. He was born Merrill D. Marmer on September 25, 1925 in Lowell, Massachusetts. A graduate of Suffolk University, he also served as a Marine in Okinawa during World War II. After the war, he teamed with writer, Stan Burns, to work on most of the major comedy variety shows of the late 50s and 60s, including that of Ernie Kovacs, Steve Allen, Jack Paar, the Smothers Brothers, Flip Wilson, Milton Berle and Redd Foxx. They also made television specials, scripting at least twenty "Dean Martin Roasts" and "The Ted Knight Musical Comedy Variety Special Special," "The First 50 Years" and "Lindsay Wagner: Another Side of Me" and "Ladies and Gentlemen Bob Newhart" and "Success: It Can Be Yours" in the 80s. They also wrote scripts for episodes of "Gilligan's Island," "F Troop," "Get Smart" and "Three's Company." They became most well-known for the popular Carol Burnett sketch "Went With the Wind," a parody of the classic "Gone With the Wind." The sketch earned them the Emmy for "Outstanding Writing Achievement in Variety or Music in 1971." Marmer's work also earned him a Sylvania Television Award and four Writers Guild Awards.
He passed away from cancer on January 12, 2002 at the age 76 in Los Angeles, California.
Episode(s)
Edit
Ad blocker interference detected!
Wikia is a free-to-use site that makes money from advertising. We have a modified experience for viewers using ad blockers

Wikia is not accessible if you've made further modifications. Remove the custom ad blocker rule(s) and the page will load as expected.