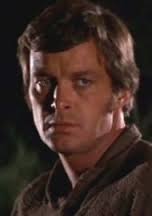 Born as Whitney Michael Armstrong on November 21, 1931, Michael Witney was an American film and television actor. From 1963 to 1964, he had a recurring role as Buck Coulter, in the series, "The Travels of Jaimie McPheetersm" which also starred Kurt Russell. The series was Witney's first screen acting role and lead to other western series, including "Bonanza," "Daniel Boone," "Iron Horse," "Death Valley Days" and "Gunsmoke." In 1975, Witney was cast as Frank Ward in several episodes of "Oil Strike North," on the BBC in England. He is also one of several "Gilligan's Island" co-stars, such as Michael Forest and Stanley Adams to have also appeared on "Star Trek." His last TV appearances were in different roles on Charlie's Angels. He passed away from a heart attack on November 30, 1983.
Episode(s)
Edit
---
Ad blocker interference detected!
Wikia is a free-to-use site that makes money from advertising. We have a modified experience for viewers using ad blockers

Wikia is not accessible if you've made further modifications. Remove the custom ad blocker rule(s) and the page will load as expected.