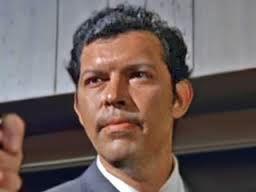 Michael "Mickey" Morton was an American actor of impressive size known for playing various heavies and larger-than life characters on television and the movies, sometimes for comic effect. Not much of his career has been revealed; he was born somewhere in Illinois on March 8, 1927 and raised in Milwaukee, Wisconsin, later showing up as an actor in Hollywood. Towering at 6-foot, 8-inches, he landed roles on "Mannix," "The Jim Nabors Show," "Gilligan's Island" and "Gunsmoke." He also appeared as the commercial pitchman for Hunt and Wesson's "Big John Beans N' Fixin's." Mostly playing thugs and gangsters, he also played a giant gorilla of an episode of "Wonder Woman;" his other television credits included "I Dream of Jeannie," "Fantasy Island," "Alice" and "Three's Company" with Harold J. Stone. He also shares the distinction with Michael Forest, Stanley Adams and Michael Witney of being one of several former Gilligan co-stars to appear on "Star Trek." In 1978, he played a female Wookiee in "The Star Wars Holiday Special," but he is possibly most remembered for his physical portrayal of DC Comics character, Solomon Grundy, in the 1979 TV special, "Legends of the Superheroes." His later movie projects include the 1985 TV movie, "The Midnight Hour," "Fun with Dick and Jane," 'The North Avenue Irregulars," and "Off the Wall." He passed away on August 8, 1993 after a brief illness in Los Angeles, California; he was 66.
Episode(s)
Edit
Ad blocker interference detected!
Wikia is a free-to-use site that makes money from advertising. We have a modified experience for viewers using ad blockers

Wikia is not accessible if you've made further modifications. Remove the custom ad blocker rule(s) and the page will load as expected.