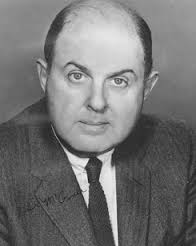 Although born in New York City on November 5, 1913, John Irwin McGiver became most well-known for playing proper American and English gentlemen in a wide range of comedies through the Sixties to the Early Seventies. The son of Irish immigrants, he was a graduate of the Jesuit-run Regis High School in Manhattan in 1932. He received a Bachelor of Arts degree in English from Fordham University in 1938 and master's degrees from Columbia University and Catholic University. Through the Forties, he worked as an English teacher and as an actor and director in New York's Irish Repertory Theater, departing only to enlist in the U.S. Army in 1942 and later serving as an officer in the U.S. Army's 7th Armored Division in Europe during World War II.
After the war, McGiver married Ruth Schmigelsky, a Chicago scenic designer, in 1947 and they settled down to live in a converted 19th century former Baptist church; they eventually had ten children together. He also returned to being a teacher, this time in English and speech at Christopher Columbus High School in the Bronx, working sporadically in off-Broadway plays until the mid-Fifties. In 1959, he received his first professional acting role in the TV series, "Five Fingers," with David Hedison. He also received roles in "The Eleventh Hour" and on "Alfred Hitchcock Presents." With his portly-shape, owl-like face and Mid-Atlantic accent, he also appeared in the movies, "Breakfast at Tiffany's," "The Manchurian Candidate," "Who's Minding The Store" with Jerry Lewis and Agnes Moorehead and "Midnight Cowboy" and "Man's Favorite Sport?" with Rock Hudson and Paula Prentiss. He also appeared on the TV shows "The Twilight Zone," "The Lucy Show, "The Fugitive," "Bonanza," "The Dick Van Dyke Show," "The Beverly Hillbillies," "Gidget," "I Dream of Jeannie," "Gilligan's Island" and "Bewitched." He had a recurring role on "The Patty Duke Show" and a regular role in the short-lived series, "Many Happy Returns" with Elinor Donahue, Mark Goddard, Mickey Manners, and Elena Verdugo, where he played widower Walter Burnley, the head of the complaint department of a fictitious Los Angeles department store. McGiver also starred in numerous commercials, including ones for 'Baggies' and the 'American Express' charge card. He was active right up to his death on September 9, 1975 when he suffered a heart attack at his home in West Fulton, New York at the age of sixty-one; he was cremated.
Episode(s)
Edit
Ad blocker interference detected!
Wikia is a free-to-use site that makes money from advertising. We have a modified experience for viewers using ad blockers

Wikia is not accessible if you've made further modifications. Remove the custom ad blocker rule(s) and the page will load as expected.