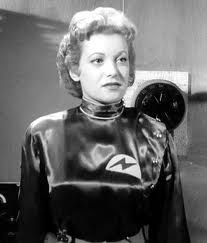 Joanna Lee was an American actress, writer, producer, and director who was born in Newark, New Jersey on April 7, 1931. She was a divorced single mother with a son, Craig Lee, by the age of twenty and began her career as an actress. Between 1956 and 1961, she starred in a series of small movie roles, including the infamous cult film, "Plan 9 From Outer Space," and the TV shows "The Donna Reed Show," "Death Valley Days" and "Leave it to Beaver." However, serious car accident in 1961 resulted in a change to a writing career and she started turning out scripts for "The Jetsons," "Mr. Magoo" with Jim Backus, "Gilligan's Island," "Bewitched," "Death Valley Days," "Gidget," "Petticoat Junction," "I Dream Of Jeannie," "The Mod Squad" "Dynasty" and numerous other TV projects. In 1974, she won an Emmy Award for Best Writing in Drama for the 1972 Thanksgiving episode of "The Waltons." She also formed her own production company, which produced the documentary "Babe" in 1975, which was nominated for an Emmy for "Outstanding Writing in a Special Program - Drama or Comedy." She also wrote the novel, "Mary Jane Harper Cried Last Night." The biography, "A Difficult Woman in Hollywood," about her life was published in 1999. Sadly, Lee died from bone cancer on October 24, 2003 in Santa Monica.
Episode(s)
Edit
---
Ad blocker interference detected!
Wikia is a free-to-use site that makes money from advertising. We have a modified experience for viewers using ad blockers

Wikia is not accessible if you've made further modifications. Remove the custom ad blocker rule(s) and the page will load as expected.