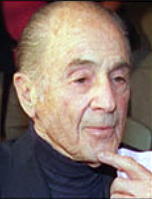 J.E. Selby was the pseudonym of Robert Lees, an American television and film screenwriter, best known for writing comedy, including several Abbott and Costello films. Born on July 10, 1912 in San Francisco, California, he graduated from Lowell High School in 1929 and started in show business as a dancer before becoming a writer for MGM Studios, where he was paired with writer Frederic Rinaldo. Their first screenplay was for the 1936 short film, "The Perfect Set-Up," in the "Crime Does Not Pay" series produced by MGM in the 1930s and 1940s and based on real life crime cases. Lees and Rinaldo continued to work on comedy shorts including "A Night At The Movies" with Robert Benchley and Penny Wisdom, "Decathlon Champions' and "Candid Cameramaniacs." In 1939, they were nominated for an Academy Award for the 1939 biographical short film, "Prophet Without Honor."
After completing "An Hour For Lunch" in 1939, Lees and Rinaldo started working in feature films, including "Street Of Memories" and the sci-fi/horror films, "The Invisible Woman" and "The Black Cat." In 1941, they started writing for Abbott and Costello, writing "Hold That Ghost," "Hit the Ice," "Buck Privates Come Home," "The Wistful Widow Of Wagon Gap,"Abbott and Costello Meet Frankenstein" and "Abbott and Costello Meet the Invisible Man." In 1952, they also wrote "Jumping Jacks" for Dean Martin and Jerry Lewis.
During the McCarthy Era of the early 1950s, Lees' career was virtually destroyed when he was put on the Hollywood blacklist by movie studio bosses for alleged Communist activities. Having pleaded the 5th Amendment while testifying at the House Un-American Activities committee, he started the pseudonym "J. E. Selby" under his blacklisting to submit scripts to studios, writing episodes for "Rawhide," "Gilligan's Island" and "Alfred Hitchcock Presents." He also went on to write covertly for the British television series, "The Adventures of Robin Hood" during the blacklist.
In 1999, he had a prominent role in protesting his blacklisting by the Academy of Motion Picture Arts and Sciences to award director Elia Kazan a lifetime achievement Oscar. Kazan had named names during the McCarthy era and continued to work while others were blacklisted.
Sadly, the 91-year-old Lees was attacked and murdered in his bedroom on June 13, 2004 by a homeless man who broke into his home and went on to murder his neighbor. Divorced from his wife, Jane Abel since 1982, he was discovered by his girlfriend, Helen Colton, coming to pick him up for an event at the Academy headquarters in Beverly Hills. He is survived by his grand-daughter, actress Tania Verafield.
Episode(s)
Edit
---
Ad blocker interference detected!
Wikia is a free-to-use site that makes money from advertising. We have a modified experience for viewers using ad blockers

Wikia is not accessible if you've made further modifications. Remove the custom ad blocker rule(s) and the page will load as expected.