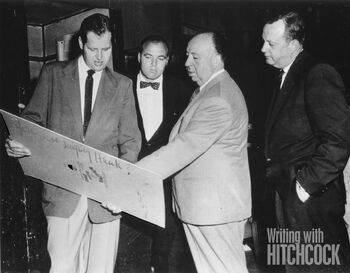 Born William Herbert Coleman on December 12, 1907, in Bluefield, West Virginia, Herb Coleman was an American director and producer best known for his long association with Alfred Hitchcock. Nick-named "Herbie," he started out as script supervisor and second unit director, later becoming an assistant director for movies such as "Duffy's Tavern" in 1945, "The Great Gatsby" in 1949 and "The Naked Jungle" with Charlton Heston in 1954. He was Hitchcock's assistant director on the movie "Rear Window" in 1953. Coleman was promoted to second unit director on "To Catch a Thief," and by their third film together, "The Trouble with Harry," Coleman had graduated to associate producer. He was also producer and assistant director on "Vertigo" in 1958, "North by Northwest" in 1959 and "The Man Who Knew Too Much" 1956. He also worked on a number of abandoned Hitchcock projects, such as "Flamingo Feather" and "No Bail for the Judge." He split with Hitchcock's feature unit while the director made "Psycho" to foray into television, directing episodes of "Please Don't Eat the Daisies," "Gilligan's Island" and "Maya," including work as a producer on both "Alfred Hitchcock Presents" and "The Alfred Hitchcock Hour." After years of working without an associate producer, Hitchcock brought Coleman back on board in 1968 to assist on the international location work for the movie, "Topaz." Considered "one of the best assistant directors who ever lived," Coleman worked in Hollywood almost sixty years from 1926 to 1988 as a director and producer and as long standing member of the Directors Guild, the Producers Guild, and the Writers Guild of America, he supplied many interviews in the modern DVD releases of a number of Hitchcock films as well as started a memoir to Hitchcock. He also agreed to be interviewed for Donald Spoto's controversial and extremely negative biography of Alfred Hitchcock, but he later attacked the book strongly for being misquoted and having his complimentary remarks about Hitchcock being distorted.
He died at the age of 93 in Salinas, California on October 3, 2001, survived by his wife, May Belle, and their three children.
Episode(s)
Edit
Ad blocker interference detected!
Wikia is a free-to-use site that makes money from advertising. We have a modified experience for viewers using ad blockers

Wikia is not accessible if you've made further modifications. Remove the custom ad blocker rule(s) and the page will load as expected.