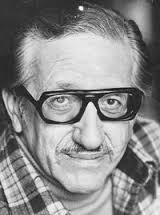 Born January 6, 1920 in Montreal, Quebec, Henry Corden was a Canadian-American actor and voice artist best known as the voice of Fred Flintstone, replacing Alan Reed, who died in 1977. His father, Max Corden, was a meat curer who had been born in Romania; his mother, Emma Cohen, was originally from Russia. They had moved to the New York City when Corden was a child and lived in the Bronx for a few years before moving to Hollywood in the 1940s.
As an actor, Corden first appeared on stage in a 1947 Hollywood production of "The Message." His first motion picture was "The System" in 1952, where he wore his own glasses to play a near-sighted gangster named Specs, but the lenses gave off too much reflection and he had to substitute them for plain glass after one day of shooting. Due to his deep voice, jet-black hair and ethnic looks, Corden frequently played heavies in films and on television. Through the Fifties, he starred in "The Secret Life of Walter Mitty," "The Black Castle," "Abbott and Costello in the Foreign Legion" and "The Ten Commandments." He also appeared in numerous TV shows, such as "Dragnet," "Perry Mason," "Bewitched," "McHale's Navy,' "Gunsmoke," "The Mary Tyler Moore Show" and several appearances on "Hogan's Heroes" in various roles and on "The Monkees" as the grousy landlord. He was also a regular on "The Jerry Lewis Show."
As a talented voice actor capable of accents and inflections, Corden lent his voice to a number of Hanna-Barbera productions starting with "The Flintstones" and going on to "The Jetsons," "Josie and the Pussycats," "The Atom Ant Show," "The New Tom & Jerry Show" and "Jonny Quest." He also lent his voice to "Thundarr the Barbarian" for Ruby-Spears Productions and "Return to the Planet of the Apes" for DePatie-Freleng Enterprises. In 1977, he officially replaced voice actor Alan Reed as the voice of Fred Flintstone on the 1977 syndicated weekday series "Fred Flintstone and Friends." In the 80s, he also re-dubbed Jackie Gleason's "profanity" for the "television edit" of "Smokey and the Bandit." Although he never recieved a credit for the work, the liberal use of the nonsense phrase "scum bum" have given the performance a sort of cult status.
Entirely working as a voice actor through the 90s, possibly due to his eyesight, Corden died of emphysema at Sherman Oaks Hospital in Los Angeles, California on May 19, 2005 with his wife of nine years, Angelina, by his side. Married once before, he was laid to rest at San Fernando Mission Cemetery, survived by his two children, three stepchildren, two granddaughters and three step-grandsons.
Episode(s)
Edit
---
Ad blocker interference detected!
Wikia is a free-to-use site that makes money from advertising. We have a modified experience for viewers using ad blockers

Wikia is not accessible if you've made further modifications. Remove the custom ad blocker rule(s) and the page will load as expected.