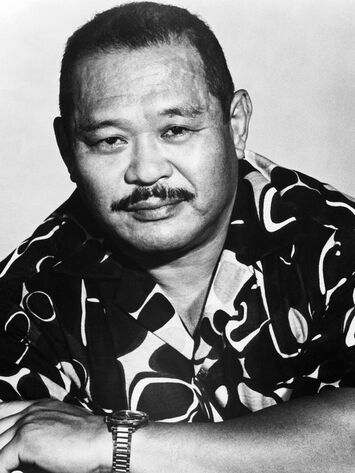 Toshiyuki "Harold" Sakata was an American-Japanese actor, athlete and wrestler best known for the role of Oddjob, in the James Bond motion pivture, "Goldfinger." Of Japanese descent, he was born on July 1, 1920 in Holualoa, Hawaii and moved to the United States where he took the name "Harold." Only growing as tall as five-foot-eight, he started lifting weights at the age of eighteen and went on to win a silver medal for the United States at the 1948 Summer Olympics in London, lifting a total of 410 kg in the light-heavyweight division. He also worked a while as a professional wrestler under the name Tosh Togo from the early 1950s until the early 1960s when he became a Canadian Tag Team Champion. It was during this time that Harry Saltzman and Albert R. Broccoli took notice of Sakata because of his heavy build and his intimidating gaze and realized he was the perfect choice for the part of Oddjob. Although he had no acting background at all besides pro wrestling, he played the character as a mute. To date, the role is one of the most popular characters in the series next to Jaws, played by another "Gilligan's island" co-star, Richard Kiel.
After "Goldfinger," Harold went on to star in other movies as well as several appearances on TV, often in roles similar to Oddjob, a name he sometimes used in public. He appeared in the films "Mako: The Jaws of Death" and 'The Happy Hooker Goes to Washington," credited as Harold "Oddjob" Sakata. He also starred with William Shatner in "Impulse" and was a regular in the series, "Sarge," with George Kennedy in 1971. He also played Oddjob in a series of TV commercials for Vicks Formula 44 cough syrup through the 1970s where he demolished homes and neighborhoods because of his cough. He lampooned the commercials in an appearance on The Tonight Show Starring Johnny Carson by destroying Carson's set.
Sadly, Sakata died of liver cancer on July 29, 1982, in Honolulu, Hawaii.
Episode(s)
Edit
Ad blocker interference detected!
Wikia is a free-to-use site that makes money from advertising. We have a modified experience for viewers using ad blockers

Wikia is not accessible if you've made further modifications. Remove the custom ad blocker rule(s) and the page will load as expected.