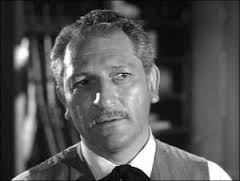 Born Harold Hochstein on March 3, 1913, Harold J. Stone was a veteran character who was af German-Jewish ancestry who enjoyed a lengthy career in stage, radio, film, and television. He began his career on Broadway in 1939, appearing in such plays in the 1940's as "One Touch of Venus," "Stalag 17" and "The Blue Dahlia." Towards the end of the decade, in 1949, in gravitating towards the burgeoning medium of television acting, Harold also co-starred in the short-lived TV series, "The Hartmans."
In the 1950's and 1960's He also appeared in the movies "The Harder They Fall" with Humphrey Bogart, Alfred Hitchcock's "The Wrong Man," "Somebody Up There Likes Me," "Spartacus" and "Girl Happy." During this period on television, Harold began playing mostly detectives, professionals or heavies, he was mostly known for appearing in these type of roles in guest appearances on numerous TV series between the 1950's through the 1980s, including but not limited to "U.S. Marshal," "Stagecoach West," "The Alaskans," "The Virginian," "The Twilight Zone," "Hogan's Heroes," "Get Smart," "Charlie's Angels" and "Three's Company." Stone was nominated for an Emmy for "Outstanding Single Performance by an Actor in a Leading Role.' for his role in "The Nurses." Between TV shows, he continued to act on Broadway.
Harold passed away at his home in the Woodland, Hills section of Los Angeles at the age of 92, of natural causes on November 18, 2005.
Episode(s)
Edit
Ad blocker interference detected!
Wikia is a free-to-use site that makes money from advertising. We have a modified experience for viewers using ad blockers

Wikia is not accessible if you've made further modifications. Remove the custom ad blocker rule(s) and the page will load as expected.