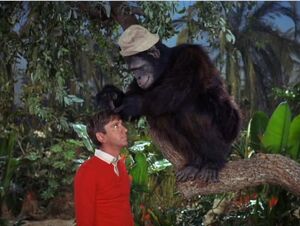 Gladys is a chimpanzee native to the island, although her location on the island is a bit of a mystery. Since chimpanzees are only native to Africa, it is possible she was abandoned on the island with the other apes or lost there much like Leo the Lion. Gilligan befriends her, treating her like a human than an animal, and she good-naturedly teases him as he spills his feelings to her. She also comes into camp at times and steals food from him, usually bananas. She has also developed several human-like characteristics, mimicking the other Castaways. She's also big enough and strong to carry Gilligan around on her shoulder.
Janos Prohaska, who portrays Gladys, is a male, Hungarian-born actor. He is ironically best known for playing animals and monsters in films and series, such as "Planet of the Apes" and "Star Trek."
Janos died in a plane crash at little after 8 years after the airing of the Beauty Is As Beauty Does episode.
Episode(s)
Edit
---
Ad blocker interference detected!
Wikia is a free-to-use site that makes money from advertising. We have a modified experience for viewers using ad blockers

Wikia is not accessible if you've made further modifications. Remove the custom ad blocker rule(s) and the page will load as expected.