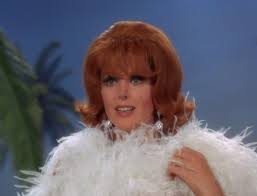 Through her time on the island, Ginger identified several movies she starred in or described the plots of movies she had made without identifying them. This page identifies many of them; the Hollywood page mentions all other movies mentioned in the series.
Identified
Edit
Unidentified
Edit
She almost had a part in "Land Of The Vampires," but she was the wrong blood type.
She almost had the leading role in "Standing Cow - Daughter Of Sitting Bull," but she didn't know how to fire a gun
In The Friendly Physician, she mentions she did a lot of prison and haunted house movies.
The following titles, "Attack of the 50-Foot Anteater," "The Cowgirl and Pistol Pete," "Dracula's Women," "House on the Hill," "Housewives From Mars" and "Singing in the Clouds" are also attributed as movies Ginger once starred in, but they're not mentioned anywhere in the series and may actually come from non-canon sources.
---
Ad blocker interference detected!
Wikia is a free-to-use site that makes money from advertising. We have a modified experience for viewers using ad blockers

Wikia is not accessible if you've made further modifications. Remove the custom ad blocker rule(s) and the page will load as expected.