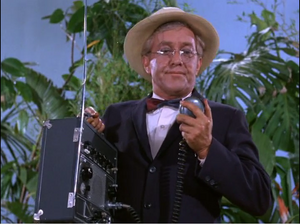 George Barkley is the dishonest and smarmy contestant of the game show, Take a Dare, who is left on the island for a week in order to win $10,000. However, once he finds the Castaways there, he starts stealing their food, belongings, and supplies to make his time on the island as smooth as possible. Gilligan discovers him first after he and the Skipper blame monkeys for the missing supplies. Afterward, Barkley keeps stealing and incapacitating his transmitter to keep them from calling for help so he can win his money. It seems he may be under the belief that the castaways are actors hired by the game show to deter his progress. He insults the Howells, calling their jewelry fakes, and accepts Ginger's advances rather than helping her. He ultimately tosses his transmitter off the cliff to keep Gilligan and the Skipper from getting it after their voices are caught on it. Eluding the castaways overnight, he is picked up by a helicopter the next morning, later learning his game show money was hidden in the transmitter.
Actor Strother Martin of "Cool Hand Luke" fame played George Barkley.
Barkley steals the Castaways' frying pan, the Howell's good silverware, the Professor's hammock and the Skipper's detective magazine.
It's never revealed if Barkley is recompensed for his prize money.
Episode(s)
Edit
---
Ad blocker interference detected!
Wikia is a free-to-use site that makes money from advertising. We have a modified experience for viewers using ad blockers

Wikia is not accessible if you've made further modifications. Remove the custom ad blocker rule(s) and the page will load as expected.