Fort Knox is a United States Army post south of Louisville, Kentucky covering 109,000 acres in parts of Bullitt, Hardin and Meade counties. It currently holds the Army Human Resources Center of Excellence including the Army Human Resources Command, United States Army Cadet Command and the United States Army Accessions Command. The United States Department of the Treasury has maintained and solely operated the Bullion Depository on the post since 1937, and it is this distinction that makes it the personal mecca of Thurston Howell III. Mr. Howell respects the military institution so much that he tries using it as a landmark when the Skipper tries giving the location of the island. Dr. Boris Balinkoff plots a grand robbery of the Fort Knox depository that fails before it starts.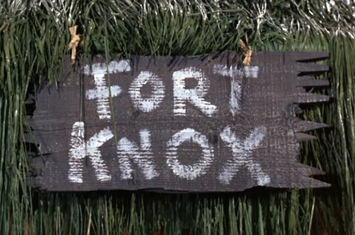 Episode(s)
Edit
---
Ad blocker interference detected!
Wikia is a free-to-use site that makes money from advertising. We have a modified experience for viewers using ad blockers

Wikia is not accessible if you've made further modifications. Remove the custom ad blocker rule(s) and the page will load as expected.