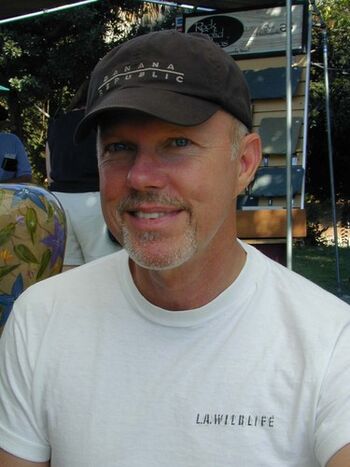 Duane Poole is a prolific American writer and producer for television, film and stage. His credits include a dozen plays and musicals and over fifty television movies, series, and features.
A graduate of the University of Washington in Seattle, he started out as a writer for Hanna-Barbera animation studios, where he wrote episodes for "The Great Grape Ape Show," "The All-New Super Friends Hour," "Scooby's Laff-A Lympics," "The Scooby-Doo/Dynomutt Hour," "The Fonz and the Happy Days Gang" and "Laverne & Shirley in the Army" as well as "The Far Out Space Nuts" with Bob Denver, "Electra Woman and Dyna Girl," "Wonderbug," and "The Krofft Comedy Hour" for Sid and Marty Kroft Productions. He was later hired by popular TV producer Aaron Spelling as a staff writer and producer for his prime-time shows "Hart to Hart," "Hotel" and "The Love Boat."
His TV work eventually lead to television movies and special features, such as the animated musical, "Michael's Bird" and "For the Love of a Child" whose plot surrounding the eggects of child abuse got him an invitation to the White House. His feature, "Shattered Image," was an official selection at the Venice, Montreal, and Toronto Film Festivals.
In addition to "Surviving Gilligan's Island," Poole also wrote the television movies, "The David Cassidy Story" and "Return to the Batcave" based on the career of David Cassidy of "The Partidge Family" and Adam West's memories of starring on Batman in the Sixties.
Poole has also written several stage plays and theatrical productions. His top works include "A Christmas Memory" based on the classic Truman Capote story, "Dorian," "Love Makes the World Go 'Round," "Beautiful Poison," "Scrooge In Love" and several other non-musical plays, including tribute evenings to Tom Jones and Harvey Schmidt, Stephen Sondheim and Stephen Schwartz for the Pasadena Playhouse.
Episode(s)
Edit
Ad blocker interference detected!
Wikia is a free-to-use site that makes money from advertising. We have a modified experience for viewers using ad blockers

Wikia is not accessible if you've made further modifications. Remove the custom ad blocker rule(s) and the page will load as expected.