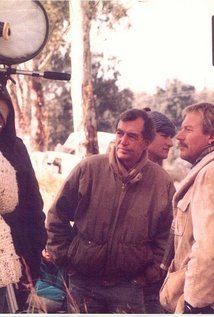 Born on January 15, 1925 in Durham, North Carolina, Charles Howard Norton is an American TV director and writer. Raised in Atlantic City, he grew up with an interest in boats and boating and graduated from the University of North Carolina in 1949 with a BA in English and Minors in Business and Dramatics. He was also Captain of the University Boxing Team and won two Gold Medals in pole vaulting, also becoming a Navy Veteran during World War II while stationed at Guantanamo Air Station in Cuba with the highest qualifying grades for Air Corps training in his squadron, making Assistant to the Duty Officer.

After the war, he started in the mail-room at CBS in 1950 and was later accepted into the Directors Guild of America in 1952, becoming assistant to Robert Stevens, producer and director of "Suspense," performing the jobs of script supervisor and stage manager. He had studied directing in University and with Lee Strasberg at the American Theatre Wing while working as an Associate Director at NBC. He later graduated to becoming a First Assistant Director working directly for CBS. He was a director on the Disney-produced movie, "Darby O'Gill and the Little People" and two episodes of "Gilligan's Island," as well as episodes of "Marcus Welby MD," "The Tim Conway Show," "Barnaby Jones," "Starsky and Hutch," "The Hardy Boys/Nancy Drew Mysteries," "Columbo" and "Chips," but he later left to prodce his own films. Among his other movies and film projects are "How the West That Was," "The Mephisto Waltz" with Alan Alda, "No Hard Feelings," "Ruby and Oswald," "Mausoluem" and "King Solomon's Mines," starring Richard Chamberlain, Sharon Stone and John Rhys-Davies Norton went on to work at NBC as Staff Associate Director and Directed episodes for "Wide, Wide, World" and other shows, departing to start a company with James Hammerstein, son of Oscar Hammerstein. They had a screenplay written by Norman Brooks, which was made into the successful motion picture "Attack" starring Jack Palance and Eddie Albert. After turning down a deal to work with Columbia Pictures, Norton headed back to North Carolina with his wife, Betsy Norton, and two daughters and landed a position as Director of Public Information at the Research Triangle Institute where he was given top security clearance and wrote news releases to the papers on government-financed projects. He also worked for the City of Durham for a while and opened the Equity Theater in Durham
Episode(s)
Edit
Ad blocker interference detected!
Wikia is a free-to-use site that makes money from advertising. We have a modified experience for viewers using ad blockers

Wikia is not accessible if you've made further modifications. Remove the custom ad blocker rule(s) and the page will load as expected.