Caves are geological formations caused by water eroding rock down over several hundred years, and in the South Pacific, many are formed from ancient lava tubes. "Gilligan's Island" is riddled with numerous caves as well, some of which are of considerable size and depth and possibly interlinked. This page will make some attempt to list them by episode and their characteristics.
Prisoner's Cave - This is the cave the Skipper uses to contain everyone after amnesia forces him to relive his World War Two experiences. This is possibly the same cave used by Jonathan Kincaid and by Gilligan acting as a deputy. - Forget Me Not

Gilligan's Hide-Out - This cave has a small round opening in a nearly sheer rock face. Gilligan escapes here after over-hearing everyone criticizing him for being annoying. It looks like the same cave the Professor explores looking for the Eye of the Idol. - It's Magic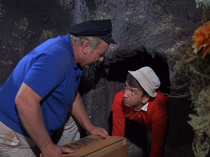 ---
Ad blocker interference detected!
Wikia is a free-to-use site that makes money from advertising. We have a modified experience for viewers using ad blockers

Wikia is not accessible if you've made further modifications. Remove the custom ad blocker rule(s) and the page will load as expected.