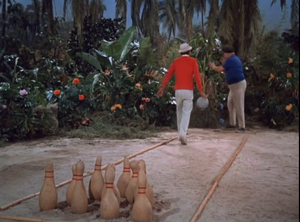 Bowling is a long-time sport with origins going back to ancient Egypt and the Roman Empire. It is also one of the many diversions the Castaways have created for themselves on the island to stave off boredom. The first version of the island sport utilized cannonballs from a chest found buried off the lagoon, but the Professor might have melted these down for an anchor in Physical Fatness. Later on, the castaways rebuild the game with stone balls, but Gilligan gets hit by lightning with one of them.
Components
Edit
Bamboo lane markers
Gourd pins
Stone bowling ball
Episode(s)
Edit
---
Ad blocker interference detected!
Wikia is a free-to-use site that makes money from advertising. We have a modified experience for viewers using ad blockers

Wikia is not accessible if you've made further modifications. Remove the custom ad blocker rule(s) and the page will load as expected.