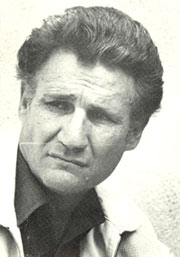 Born William Gene Welch on July 28 1934 in Red Oak, Texas, William Hart was an American actor and stuntman who worked mostly in Westerns from the Sixties to the Eighties. A longtime member of the Stuntmen's Association of Motion Pictures, he got his start as a stuntman in 1960 on "The Alamo" with John Wayne and went to perform and coordinate stunts on more than fifty films and TV shows, including "McLintock!" and "The Comancheros" with John Wayne. He was Glenn Ford's stunt double on numerous films including "Day Of The Evil Gun." A gifted fighter and horse rider, he also appeared in "Dual At Diablo," "The Rounders," "Heaven's Gate," and "The Wild Bunch" by Sam Peckinpah as well as on classic TV shows such as "Gunsmoke" and "Rawhide." His later work includeds appearances in "Suburban Commando," "Lethel Weapon 3," "The Sandlot," "Dr. Giggles" and "Army of Darkness" in 1992. The father of fellow stuntman Chuck Hart, he was married twice. He died on January 2, 2015 in Northridge, California.
Episode(s)
Edit
---
Ad blocker interference detected!
Wikia is a free-to-use site that makes money from advertising. We have a modified experience for viewers using ad blockers

Wikia is not accessible if you've made further modifications. Remove the custom ad blocker rule(s) and the page will load as expected.