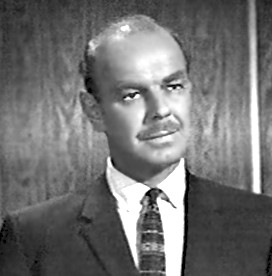 Born December 9, 1912 in New York City, Bartlett Robinson is an American radio, television and film actor best known as the voice actor for Erle Stanley Gardner's super-lawyer Perry Mason in the eponymous 1943 radio series. The Manhattan native first broke into the entertainment business when he and some young friends calling themselves the Sunday Players came to Los Angeles in 1933 and landed a job on radio station KFI. For the next several years, he alternated between stage work in New York and radio and films in Los Angeles, playing Perry Mason through most of the Forties. He also worked with Henry Fonda and Lillian Gish on stage and amassed a series of regular radio credits that included such top-rated shows as "The Romance of Helen Trent," "Backstage Wife," "Valiant Lady" and "Young Dr. Malone." His stage credits included "Sweet River," "Merchant of Yonkers" and "Point of No Return." In films from 1956 to 1973, he was often cast as doctors and military officials in movies such as "Sleeper," "The Spirit of St. Louis" and "I Want to Live!" His TV credits included "Gunsmoke," "The Untouchables," "Thriller" with Boris Karloff, "The Many Loves of Dobie Gillis" with Dwayne Hickman and Bob Denver, "Alfred Hitchcock Presents," "Leave it To Beaver," "The Andy Griffith Show," "Bewitched," "The Munsters," the television version of "Perry Mason," "Here's Lucy," "Green Acres," "The Odd Couple" and "Lou Grant." He also appeared in "To Serve Man," one of the most popular "Twilight Zone" episodes ever produced. He was married to Margaret Whitney-Ballantine. He passed away peacefully in a retirement home in Fallbrook, California on March 26, 1986 in Fallbrook, California after a lengthy battle with cancer.
Episode(s)
Edit
---
Ad blocker interference detected!
Wikia is a free-to-use site that makes money from advertising. We have a modified experience for viewers using ad blockers

Wikia is not accessible if you've made further modifications. Remove the custom ad blocker rule(s) and the page will load as expected.