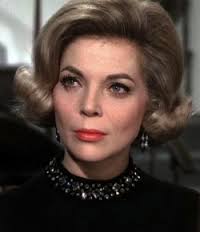 Barbara Bain is an American film and television actress. She is probably best known for her role as Dr. Helena Russell on the short-lived dramatic science fiction series, "Space: 1999."
She was born Millicent Fogel on September 13, 1931 in Chicago, Illinois, the daughter of Russian Jewish immigrants. She graduated from the University of Illinois with a bachelor's degree in sociology, later developing an interest in dance and moving to New York City, where she studied alongside Martha Graham. Dissatisfied with her career as a dancer, she went into modeling and appeared in Vogue and Harper's Magazines among other publications. Eventually, she entered the Theater Studio to study acting under Curt Conway and later under Lonny Chapman. Progressing to the Actors Studio, she was instructed by Lee Strasberg.
Her first acting role was in Paddy Chayevsky's play, "Middle of the Night," in 1957. During touring, she met and was romanced by fellow actor and eventual husband, Martin Landau, settling with him in Los Angeles.
Working primarily on television, Bain appeared on such TV Shows in dramatic roles in "Tightrope," "The Law and Mr. Jones," "Adventures in Paradise with Gardner McKay," "Straightaway," "Richard Diamond, Private Detective" and "Perry Mason." Between 1966 and 1969, Bain starred with Martin in several episodes of "Mission: Impossible," winnig three consecutive Emmy Awards for Best Dramatic Actress for her performances in 1967, 1968 and 1969 in addition to a Golden Globe Award nomination in 1968.
From 1975 to 1977, Bain again starred opposite her husband in the science-fiction TV series "Space: 1999." They would not work again together until the made-for-TV film, The Harlem Globetrotters on Gilligan's Island, their last project together before they divorced in 1993. Bain's other television appearances include "The Dick Van Dyke Show," "My So-Called Life," "Millennium," "Saving Grace," "CSI: Crime Scene Investigation" and "Ben 10: Alien Force" with her daughter, Juliet Landau.
Now divorced, Bain had two daughters with Landau, actress Juliet Landau and film producer Susan Bain Landau-Finch. She is now a member of the Actors Studio West, where she continues to teach classes and perform scene work. She has contributed to many charitable causes, including literacy.
Episode(s)
Edit
Ad blocker interference detected!
Wikia is a free-to-use site that makes money from advertising. We have a modified experience for viewers using ad blockers

Wikia is not accessible if you've made further modifications. Remove the custom ad blocker rule(s) and the page will load as expected.