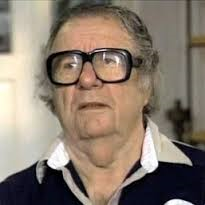 There is not much known about the career of writer, director and producer Austin Roy Kalish. Nick-named Rocky, he was born on February 3, 1921 in the Bronx in New York City. He is primarily known for his work in several Sixties and Seventies series, such as "Family Affair," "Good Times" and "Too Close For Comfort." He was a co-writer on the original Gilligan's Island pilot but didn't receive a credit on it.
Kalish is married to Irma Kalish, who also worked as a writer on "The Facts of Life" and "Too Close For Comfort." They have two children, Bruce Kalish and Nancy Kalish Biederman, both of whom also worked in show business behind the scenes. Bruce is married to actress Leah Ayres, an actress who also played Marcia Brady in the "Brady Bunch" follow-up known as "The Bradys" after Maureen McCormick bowed out of the series. She is also the mother of Austin's grandson, Mackenzie Austin Kalish.
Episode(s)
Edit
Ad blocker interference detected!
Wikia is a free-to-use site that makes money from advertising. We have a modified experience for viewers using ad blockers

Wikia is not accessible if you've made further modifications. Remove the custom ad blocker rule(s) and the page will load as expected.