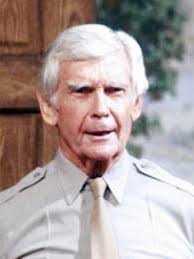 Born November 18, 1912 and raised in Mandan, North Dakota , Arthur Peterson Jr. is an American actor from the stage, screen and motion pictures, He studied acting at the University of Minnesota and was a member of the Federal Theatre Project, making his debut on the radio serial, "The Guiding Light" in 1936.
Joining the Army during World War II, Peterson returned to Hollywood afterward to resume his acting career, getting a part n the comedy, "That's O'Toole" and appearing in the stage play "Inherit the Wind." His film career was more sporadic with roles in "Born Wild" in 1968 and "Rollercoaster" in 1977. He also had acting classes at George Mason University and wrote original scripts, such as such as "The Monster, The Bride and Stephen" from the writings of Stephen Crane. He also co-authored a one-man show titled "Robert Frost: Fire and Ice" with June August and which he starred in from 1981 to 1991, alternating with a Pasadena Playhouse production of "The Gin Game" with his wife Norma.
During the Sixties and Seventies, Peterson appeared in a series of TV shows including "Gilligan's Island," "Bewitched," "Green Acres," "Bewitched," "Maude," "Barney Miller," "The Hardy Boys/Nancy Drew Mysteries," "Trapper John" and "Father Murphy." His most popular role was as the Major, one of the eccentric characters on the long-running comedy, "Soap." He retired after the series ended. He died on October 31, 1996, of Alzheimer's disease in the Amberwood Convalescent Hospital in Los Angeles, two and a half weeks before his 84th birthday.
Episode(s)
Edit
---
Ad blocker interference detected!
Wikia is a free-to-use site that makes money from advertising. We have a modified experience for viewers using ad blockers

Wikia is not accessible if you've made further modifications. Remove the custom ad blocker rule(s) and the page will load as expected.