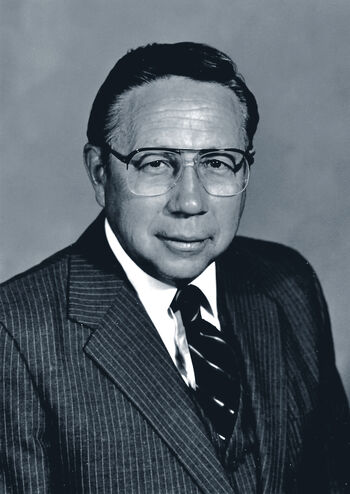 Born March 19, 1927 in Cincinnati, Ohio, Albert "Al" Schottelkotte was an American news anchor and reporter. During the Forties, he worked as a copy boy for the "Cincinnati Enquirer" and gradually worked his way up to becoming a reporter, becoming the younget paid reporter for any major newspaper at the time. Following a two-year stint in the Army, he was hired by WSAI radio to anchor their evening newscast, also also returning to the Enquirer and becoming a full-time columnist with a "Talk Of The Town" column. Encouraged to move to television, he became the leading broadcast journalist for Cincinnati's WCPO-TV for twenty-seven years, rising through the executive ranks at WCPO and later joining the Scripps Howard Foundation. He passed away December 25, 1996.
---
Ad blocker interference detected!
Wikia is a free-to-use site that makes money from advertising. We have a modified experience for viewers using ad blockers

Wikia is not accessible if you've made further modifications. Remove the custom ad blocker rule(s) and the page will load as expected.